A cultural newsletter 
with Natasha Stagg & Molly Soda

..
Hi friends, we've missed talking to you. This is our first newsletter. You're welcome! For those of you not yet friends, though soon to be, let us introduce ourselves briefly. We're Nuda, the biannual (at best) publication based in Stockholm and Berlin. Stubbornly, and as a silent homage to Johannes Gensfleisch zur Laden zum Gutenberg, we've tried to resist the fast paced modern world of intangible code and pixels, by means of silly hardcover print objects. This is us, joining the online circus.
What to expect? We don't know. Don't like it? Just leave the party. For those of you staying, we'll be whipping up hot-'n'-nots, gossip, art, fashion, life and scandalous thoughts. Brace yourselves!
Get next months newsletter straight to your inbox? Sign up now.
/ Nuda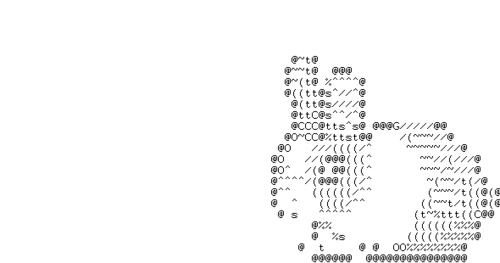 ---
┏┓┏┳━┳━━┓
┃┗┛┃┃┣┓┏┛
┃┏┓┃┃┃┃┃
┗┛┗┻━┛┗┛
┏━┳┳━┳━━┓
┃┃┃┃┃┣┓┏┛
┃┃┃┃┃┃┃┃
┗┻━┻━┛┗┛
1. Humility
1. Horseshoe theory
2. Tepache
2. Kombucha
3. Love songs
3. Op eds
4. Rockabilly
4. Y2K
5. Cynar Negroni
5. Last Word
Hot/Not according to Natasha Stagg
Natasha Stagg emerged with her debut 'Surveys', possibly the first novel about an influencer, in 2016. She's an alt-lit indie darling and culture critic whose work has been featured in Spike Art, Artforum and Playboy Magazine. Published multiple times by Chris Kraus and, until recently, Sylvère Lotringer's Semiotext(e), Natasha's third book arrives this year. Here she shares some ins and outs and hots and nots and tells us why the horseshoe theory says nothing, really. Read all about it below.
Horseshoe theory
Words: Natasha Stagg
Horseshoe theory is only out because it's dated—are we all really just points on a matrix? Yes and no. It's funny that on the limited, double-headed political spectrum we've established, everything can't fall neatly on one side or the other, and that in fact, many things, like an obsession with eating farm-raised and wild-caught food, would very much describe each of the extreme ends. Is it that funny, though? Get off my lawn becomes save the planet becomes let's go to Mars.
A popular meme form is to show how two apparently different-minded groups are the same—how really, we're not so unalike (hoping to capture the attention of both groups, getting double the traction, perhaps). We are somehow, despite our very different priorities, at the same movie on its opening night, etc. But it is important to recognize how many of these priorities have nothing to do with each other, other than their individual adoptions by political agendas. Condensing expansive, misshapen concepts like religious freedoms, genetic testing, healthcare, and sexual and gender identity into points on either side of the right-left see-saw was what made it so ill-fitting a place to situate ourselves, causing the whole structure to bow in the middle.
And to clarify, when I say humility, I do not mean the apology, which, I don't have to tell you, has lost all meaning. I'm thinking of a humble state, as in knowing that we don't even know what we don't know. There are no experts on newly invented technologies, no intergalactic explorers from Earth, no long-term effects of brand-new medications, right? What I mean is keeping in mind that we can predict, but we can't be sure about much. Also, there is such a thing as overexposure, and a way to avoid that is by staying humble. This is not a moral judgment, but I see the trend of being a big deal waning (it will flare up again later, I'm sure). All of the very famous people regret it now. They want us to leave them alone and buy their boring little lifestyle brands instead.
---
˚୨୧⋆。˚ ⋆ Molly's Web ⋆ ˚。⋆୨୧˚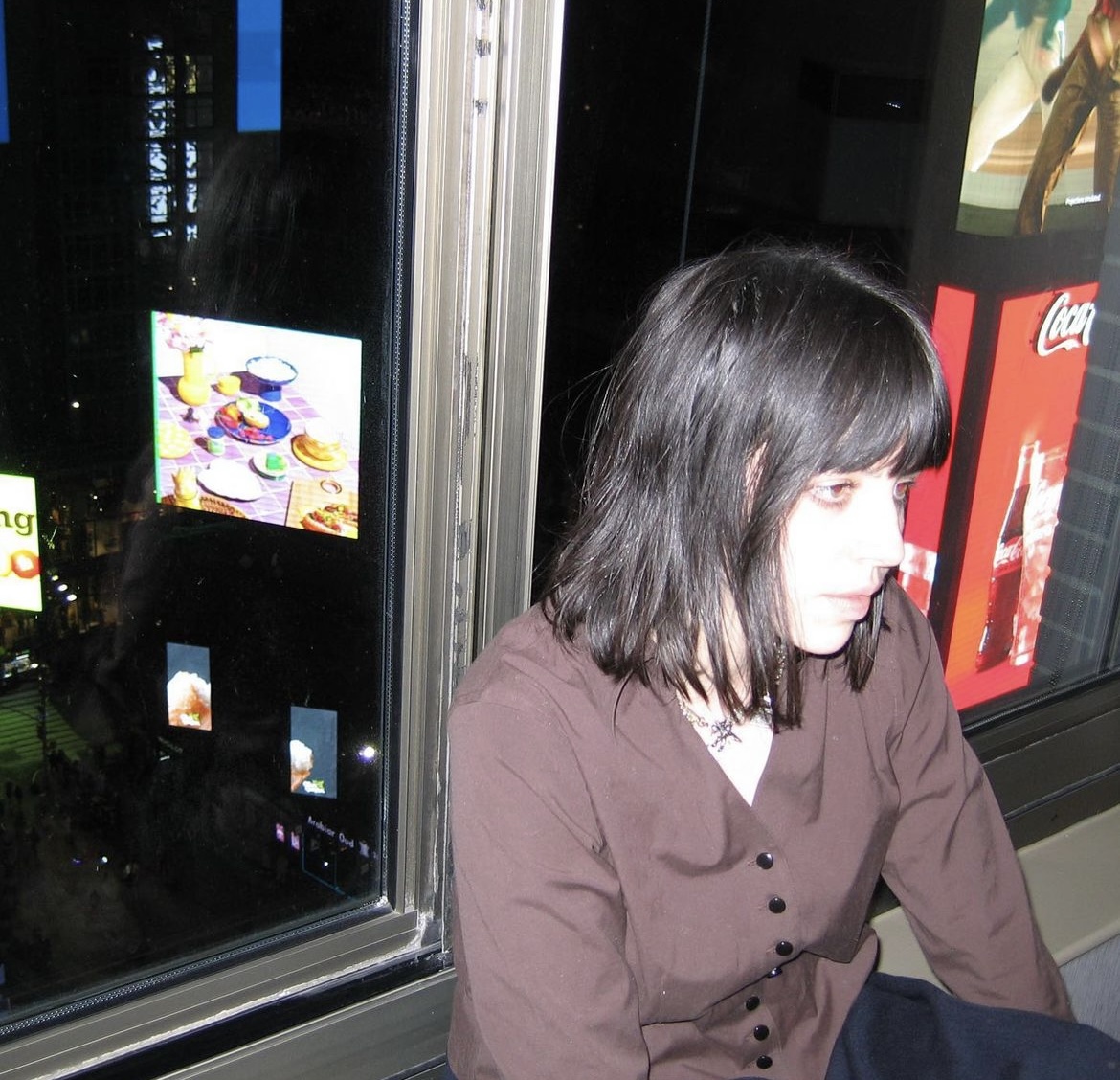 There would be no www as we know it without her. That might not be true in a technological sense, but Molly was the Tumblr it girll back in 2010, when us girls born in the 90s were trawling the platform for soft porn and pastel hair-color inspo. We love Molly for being a part in shaping our youth and influencing us into getting star constellation tattoos and giving up on shaving. Molly is an artist, based in Brooklyn, still posting like it's 2013 and we can't get enough of her. She got back to us with her top 5 of the web right now.
Name a girl who's better to ask?

˚୨୧⋆。˚ ⋆ http://provosmosteligible.com/ ⋆ ˚。⋆୨୧˚
Provo's Most Eligible is a made-for-YouTube dating show, in the style of The Bachelor franchise, that focuses on 3 young LDS (The Church of Jesus Christ of Latter-Day Saints) women looking for love. The show was clearly shot on a relatively low-budget, resulting in some pretty funny camera work and awkward moments. I say this with love, because it is special. And despite being based on a pretty standard reality show concept, I haven't seen anything like it.

˚୨୧⋆。˚ ⋆ https://www.tumblr.com/ ⋆ ˚。⋆୨୧˚
I've been posting regularly on Tumblr again. It'll never be the same as it was at its height (2010-2014) but I don't really need that from the platform anymore. If anything, I love that I don't know any of the people I follow and it feels nice to inhabit an online space that feels somewhat anonymous. Some of my favorite currently active Tumblr accounts are xvisualtrash09x, fruitchouli, and thatbitchsimone.
˚୨୧⋆。˚ ⋆ https://www.tiktok.com/@mollymoonn2 ⋆ ˚。⋆୨୧˚
A friend recently sent me Molly Moon's TikTok account and it blew my mind. She's doing some of the most interesting stuff on the platform. I love the super flat/pixelated style of her graphics. I don't really play video games but if she made one I would play it.
˚୨୧⋆。˚ ⋆ https://www.instagram.com/healthfreak1001/ ⋆ ˚。⋆୨୧˚
Healthfreak1001 is artist Lizzie Klein's Instagram account for her Health Freak project. It's less modern "wellness" culture (green juice, high production morning routines for TikTok, facial massage) and more its predecessors (sprouts, poor quality digital camera photos, second wave coffee shops).
˚୨୧⋆。˚ ⋆ https://www.smule.com/ ⋆ ˚。⋆୨୧˚
Smule is a karaoke app that lets you record duets with other users. There's something a bit uncanny about it that I can't quite wrap my head around. Maybe it's the fact that you're dueting with pre-recorded videos, or it's the video and vocal filters, or just the energy of a bunch of people who like to sing despite whether or not they have "talent" all gathered in the same place.
---
Art to watch
How do we soothe the feeling of meaninglessness if not through the beauty of objects? Five artworks to make you feel again!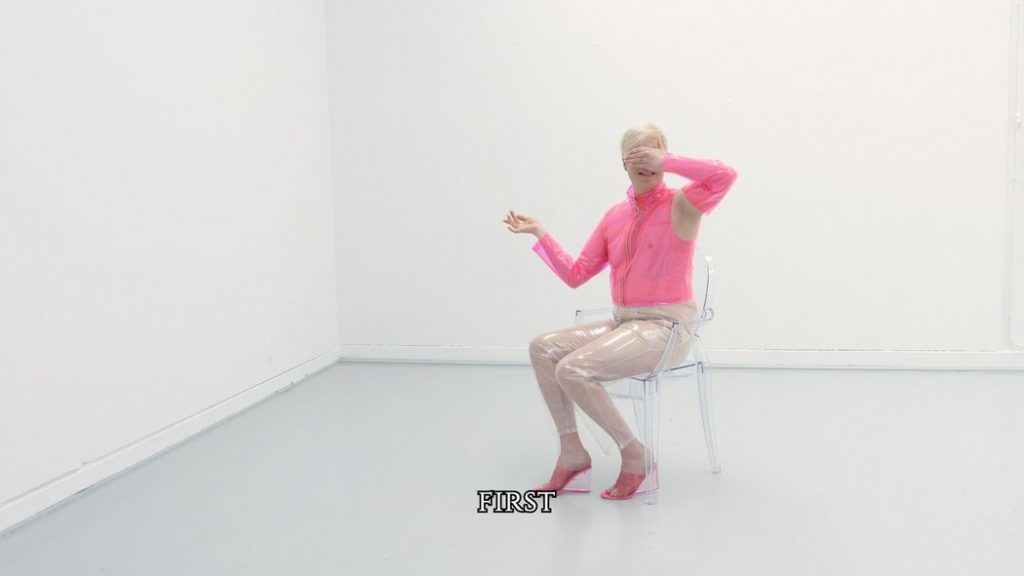 Mattias Andersson's work Truly Blind is a 5 and a half minute long degenerated musical looking into undeniable desires and the artist's own ass. A gay man in plastic wants to be a girl with a heart-shaped face so he can win his straight friend's D, and we relate – heart-shaped, or "V"-shaped, is actually scientifically proven to be the most visually attractive face shape to have. He's shamelessly putting himself out there in Moulin Rouge-manner, just like you would at 2am in a bar sitting next to your crush not knowing if you have a chance to take them home or not, and if you actually score is it just because they are drunk? The day after you text them that "you're not looking for anything more", to be on the safe side. It's cringe and we embrace it. You can be cringe too – watch the full video here.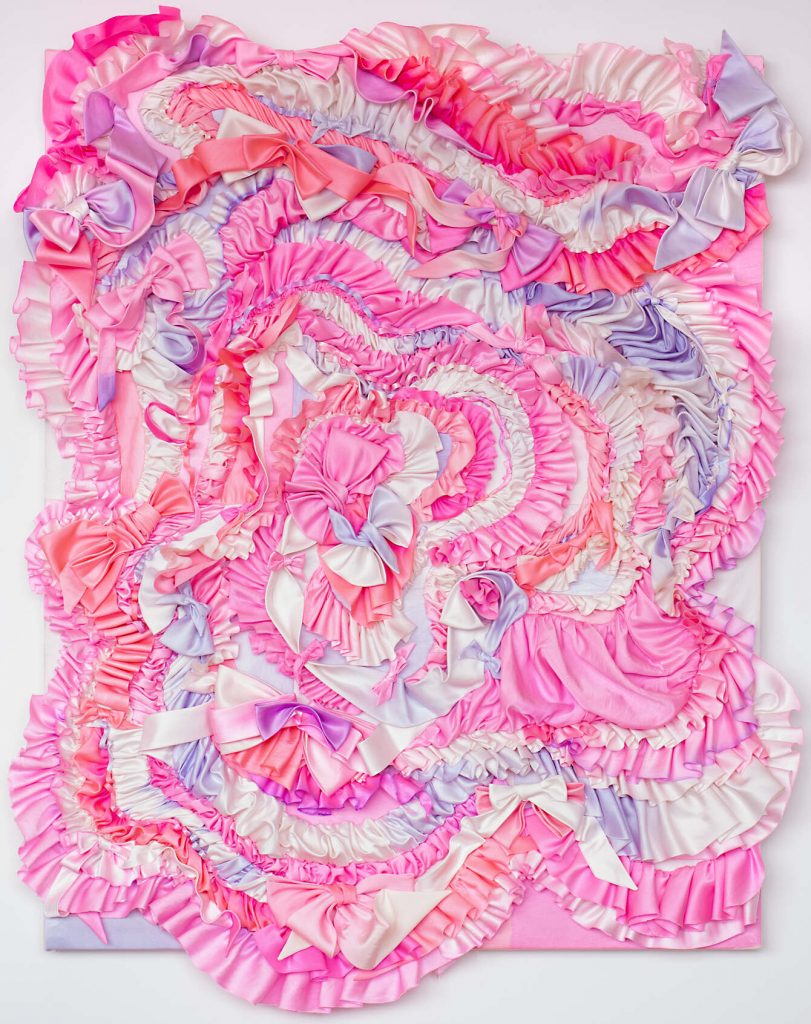 Gabriella Loeb's Petits Battements, referring to a movement in ballet that starts with the working leg in the sur le cou-de-pied position, (where the pointed foot is placed on the opposite leg between the base of the calf and the beginning of the ankle) is hitting just right at the peak of the ballet-core trend. What is ballet-core? Admitting that femininity takes discipline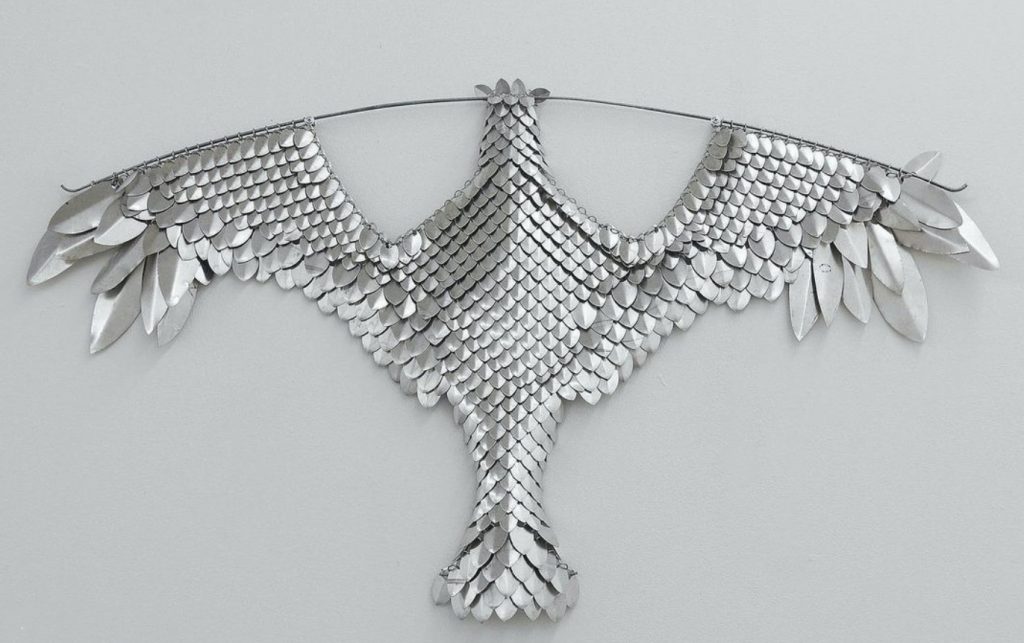 Andreas Sandberg's Single-headed Eagle Rising, Wings Displayed Inverted II. The iconography of the heraldic eagle is inherited from early medieval tradition. Back then, its symbolism was dual: On one hand it was seen as a symbol of the Roman Empire; on the other hand, the eagle in early medieval iconography represented Saint John the Evangelist, ultimately based on the tradition of the four living creatures in Ezekiel. Today it's collected further connotations: imperialism, the US, nazis – but according to online sources it's supposed to represent honesty, truth, majesty, strength, courage, wisdom, power and freedom. Since Catholicism is what's hot right now, this is what the Sovereign Lord says: A great eagle with powerful wings, long feathers and full plumage of varied colors came to Lebanon. Taking hold of the top of a cedar, he broke off its topmost shoot and carried it away to a land of merchants, where he planted it in a city of traders. A great eagle with powerful wings, with feathers like a dress from Paco Rabanne in silver came to Lebanon.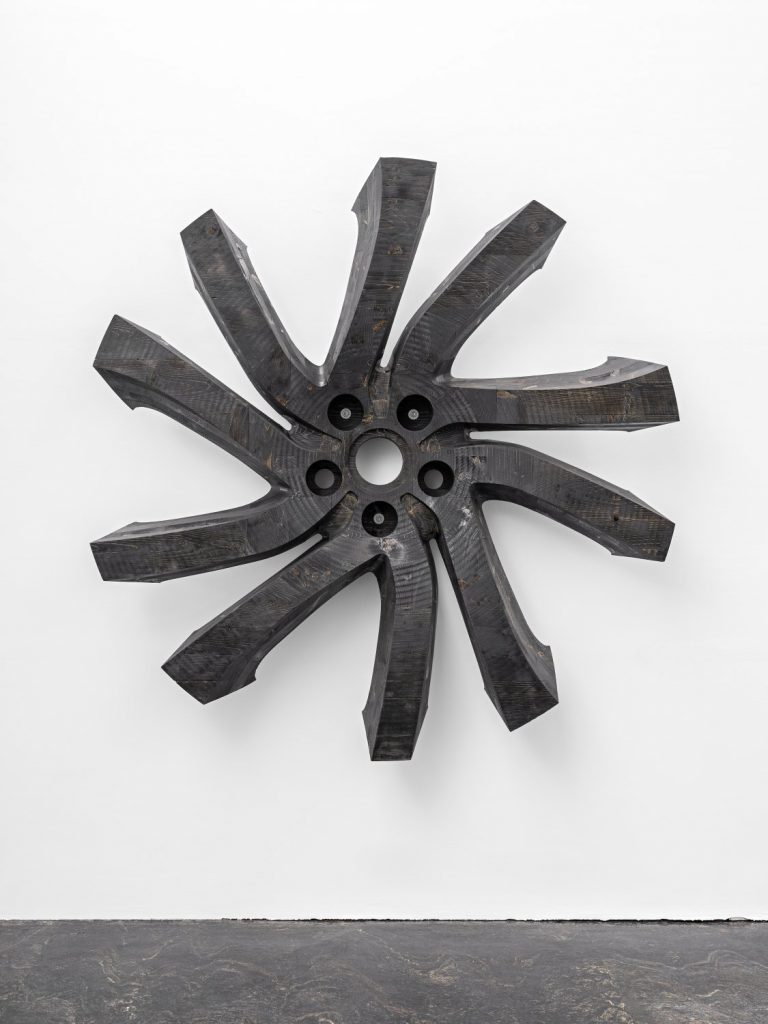 They say that Yngve Holen's work relates to the body, to the body becoming machine and to consumerism. I feel as if we have come to a point where we don't have to say all that anymore for a work to be legitimate. Yngve Holen's HEINZERLING is vroom vroom and shiny, it's bending metal and was sent to this planet from the future. They hold free association and they hold form. Pedal to the metal.
---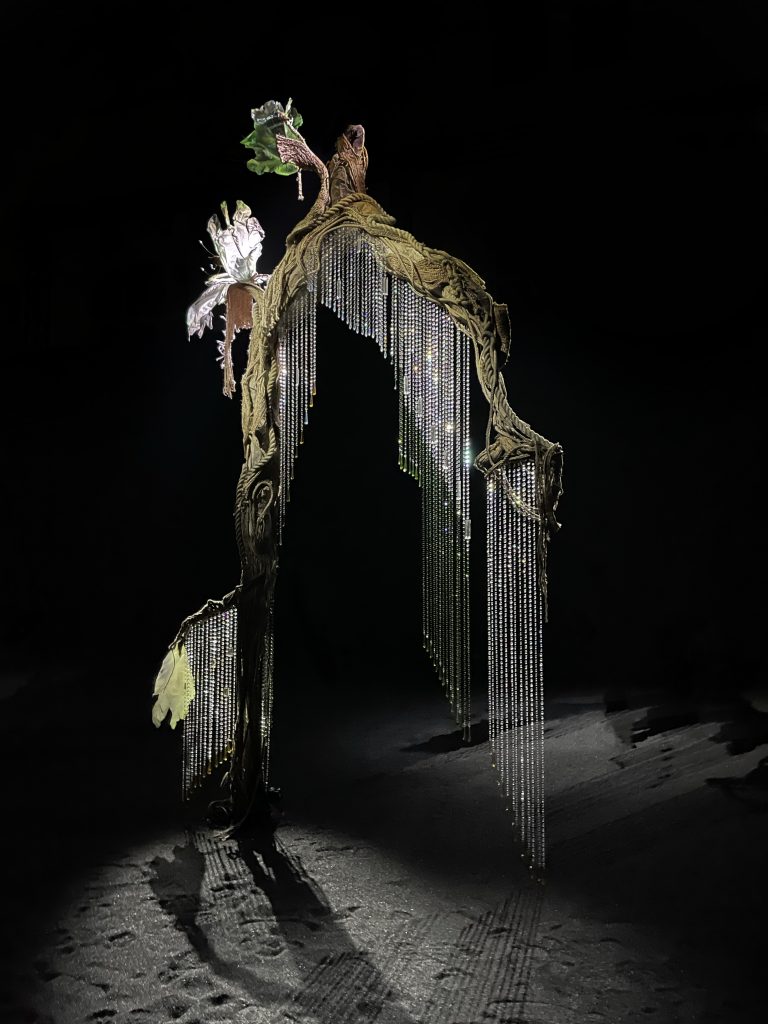 Backstage at Acne Studios AW23
Acne Studios AW23 – the shortest and least to the point review you've ever read:
It's giving "lonely little kindhearted elf lost in the deep black magic forest." Scary! Fairy-core! Relatable? In a world where reality hits harder than the rainbow-colored powder on a plate passed around an afterparty, we're all in need of sanctuaries where alchemy rules, Earth is flat and goals are achieved by affirmations. We need places like the Acne Studios Autumn Winter 2023 runway, where the ground is black glitter sand and fairies wear hot pink and flower-bedazzled heels. Bags on point, will be getting one. Modest ways of showing skin, through transparent layers of fabric. It's a yes for me.
/ Nuda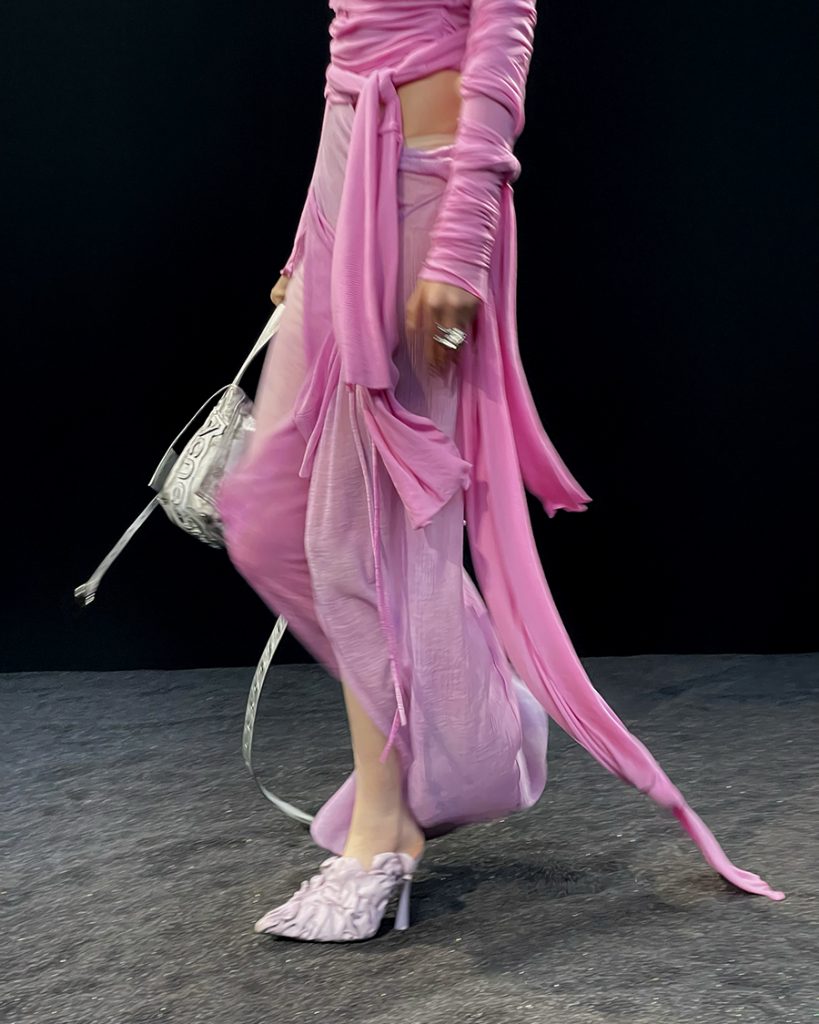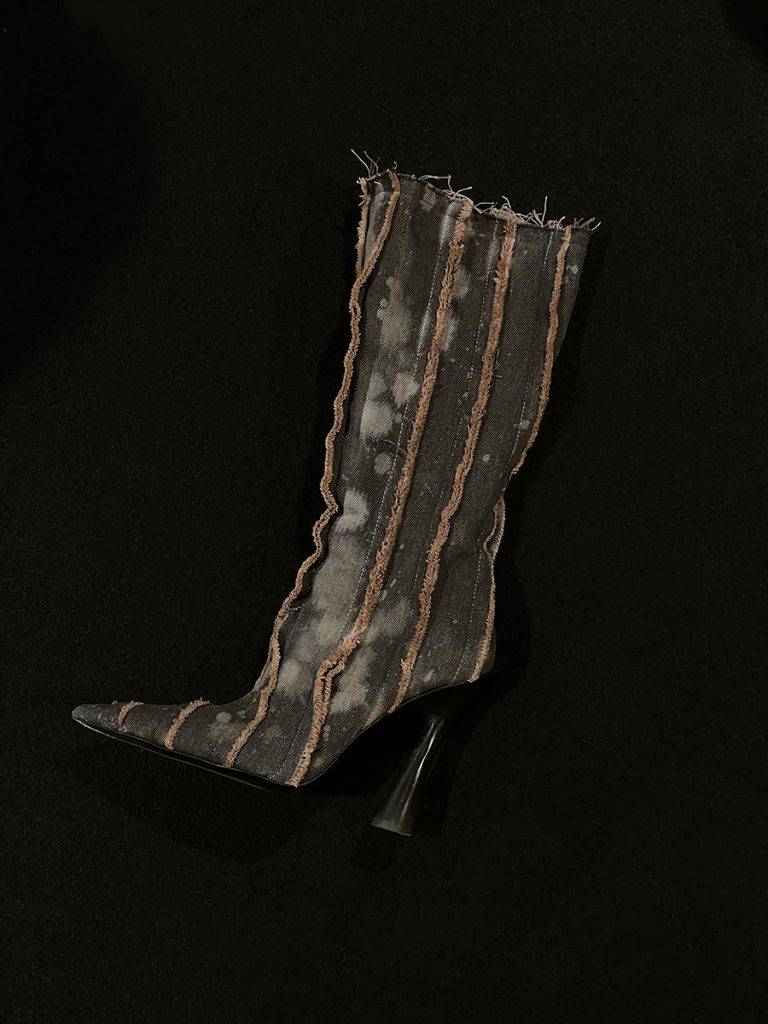 Want to get next months newsletter straight to your inbox? Sign up

here

<3